The YMS 2017 blew us away!
Just when we thought the Youth Marketing Strategy (YMS) couldn't get any better, they simply knocked it out of the park again this year.
Held in the quirky industrial Old Truman Brewery, London, delegates were spoilt with over 200 speakers, 65 exhibitors, 5 alternative content streams, 7 creative masterclass', 2 chill out zones, a live entertainment stage and wonderful cuisines on offer to delight the taste buds. With some of the biggest brands and names in the industry sharing knowledge and insight there was so much on offer making this event a must for experienced and budding marketers alike.
BAM were proud to be Key Sponsors of such a renowned event and we had a pretty jammed packed schedule ourselves, here are some of our highlights:
Wham BAM Whirlwind creates balls of fun
After the success of last years fruit machine installation, this year BAM decided to cause a storm with a new competition – The Wham BAM Whirlwind. Delegates were challenged to take on our cyclone to try and grab as many of our blue balls as possible for the chance to top our leader board. Sounds simple doesn't it but trust us when we say it as not as easy as it looks (of course we had to try it out for quality control purposes). Check out some of our favourite clips:
The champion of the balls was Natalie Turner from Student Beans grabbing an impressive 31 blue balls. Congratulations Natalie!
At BAM we are experts at bringing campaigns to life through gamification, gaining increased interaction and engagement from the audience, but don't just take our word for it, check out what the delegates of this years YMS had to say:

Are Students all the Same? Tim Bodenham reveals all
Taking centre stage Tim Bodenham, Managing Director wanted to pose the question are students all the same? To a brand, are they different to other millennials and new to the field, Generation Z's?
Earlier in the year BAM explored concept, conducting in depth research into the student market to understand to gain further understanding of student behaviour and what they expect from a brand. Surveying over 3000 students across the UK, here are some key insights Tim shared: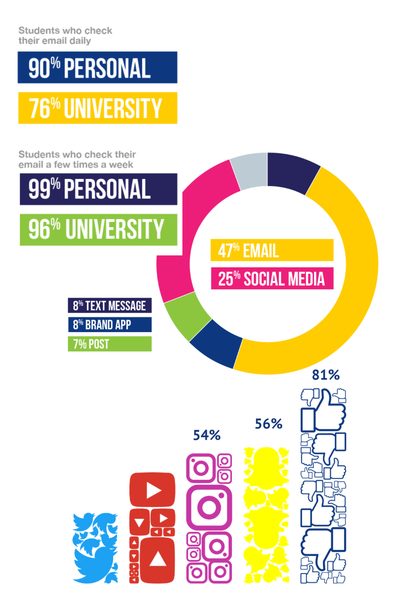 In terms of social media, Facebook is still leading the way with 81% of students using this platform on a daily basis. Although Snapchat and Instagram are perceived as the much more popular in the current age, Facebook is a necessity, somewhere students can check in on all their family and friend networks
There is a common misconception that students rarely check their University email accounts. BAM has always been advocates of the power of University email sends as an effective channel to market to students. This was endorsed in our latest findings that 76% of students check their University emails daily and when combined with those that check a few times a week this is almost the entire student populace with 96%. With average open rates of 30% and click through rates of up to 10% email marketing should be a serious consideration in any student marketing strategy.
In light of the above findings it's no surprise that the preferred method to receive brand promotions and offers was through email with 47%. Why? Well an email from a brand is not perceived as an intrusive. Students take the time to specifically look through their emails, they have made this decision, whereas with app notifications and text messages (trailing with 8% in our survey) can be seen as intrusive because they are made to look the message when the brand decides, not the student which can mean they are much less receptive to your message.
Offers and discounts remain the front runner in terms of what influences students to buy from a brand with 90% of students surveyed selecting this option. It is almost an expectation of students that they should get a discount or a special offer for just being a student, something only students can get. Brands should not underestimate the power of bonding with students through making them feel special, simply for being a student.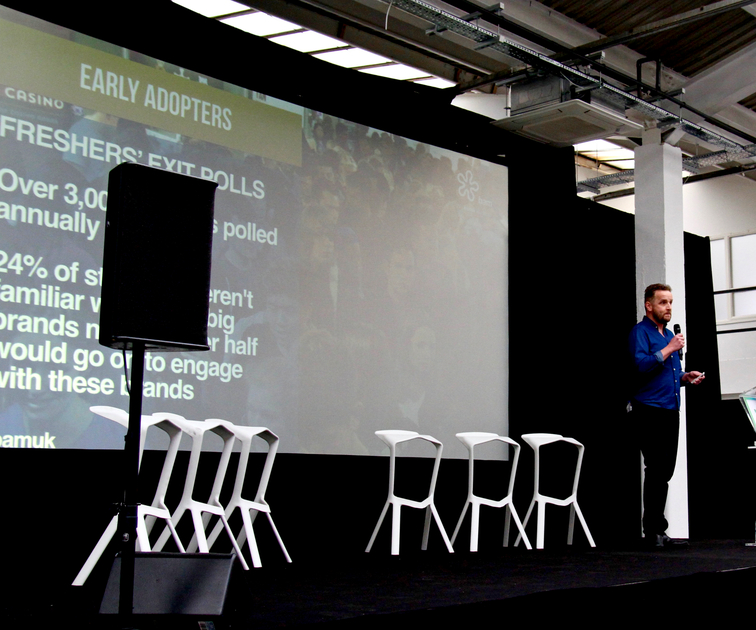 In answer to the initial questions are students all the same? In short no, of course they are not. Our psychometric profiling has always brought up different student types, yet when you drill down to these types interaction with brands, the metrics are all the same, bar one. The way they want to be spoken too, not the means. Tim advised brands to remember that students want brands to talk to them as an individual, not at them as a group, in a way that they can relate to, showing that they understand them and know what it is they want.
The final note from Tim was to emphasize the value of the student market and why brands should take the time to invest, Why students are the primary target audience for brands that have youth as a key customer segmentation. Brands were advised to remember the 4 value pillars of student marketing outlining that students are early adopters, they live in a community environment, they have access to expendable cash and they are brand loyal making students a key and lucrative demographic for brands look to target the youth market. There will be a more detailed review of the 4 value pillars of student marketing in a forthcoming blog by Tim.
How do you run an awesome student marketing campaign? BAM joins a panel of experts and professionals to shed some light

The Guardian held a discussion to find out what it takes to run an awesome student marketing campaign. They invited 6 experts in this field from Missguided, Deliveroo, NUS, Seed Marketing, HP and most importantly, BAM.
The panel spoke about who in the market was getting it right and also who was just getting it wrong. When planning a student marketing campaign we advised brands that students are much more savvy than they have ever been so it you are paying to attend Freshers Fairs, make sure you invest the time to do it properly.
The power of executing an awesome campaign was further supported by Xavier from Deliveroo, when reflecting on their recent campaign initiatives that have found that students are extremely valuable customers but they are also valuable promoters of your brand so it is imperative to get students to engage with your brand to create life long advocates.
Our key message was the importance of understanding your objectives and what you want to achieve. At BAM we work closely with our clients to understand their objectives to formulate effective strategies to ensure a successful campaign.
Sweet Tweets
Everyone loves a sugary treat and on the second day of the YMS we gave all delegates a little pick me up with some yummy sweets. Not only did we please the sweet-toothed delegates we also gave them the exciting opportunity to win tickets to an Escape Room activity in London with yours truly. Now whilst we wanted to give the delegates the chance to win an awesome prize, in reality, team BAM are probably going to need all the help they can get to Escape one of these rooms!
We were inundated with entries to the competition with delegates tweeting a picture of the sweets with the hashtag #YMS17 and tagging @bamuk, here are some of our favourite entries:

Drawn at random we had 6 lucky winners:
Megan Timble, Louise Jones, Amy Cooke, Sarah Wallbridge, Victoria Prime and Lisa Benton. All winners have been announced on our twitter page @bamuk.
We look forward to escaping a room… or not as the case may be with these guys later in the year.
Here's to YMS 2018
We had high hopes for YMS 2017 and it didn't let us down. A fantastic event with so much advice, insight, knowledge, experience and not to mention a whole load of fun. Check out our video capturing the highlights:
Now we look to next year and wonder what YMS 2018 will have in store and what colour jacket Simon Eder will don on the stage? All we can say is watch this space! If you would to find out more about our insight at the YMS or indeed to talk to us about the youth market, please get in touch.