Online vs in-store: How today's students shop
Students aren't typically known for being big spenders. Often living on a tight budget of student loans, plus an average of £114.10 a week from parents, many are encouraged to think wisely about their purchases. That being said, Marketing Magazine's 2013 Fresher's Marketing Report, found that students aged 18-24 contribute around £20 billion to the UK economy, suggesting the student market is not one to be ignored. For those hoping to market their business to these young, price-conscious and tech-savvy consumers, it's important to understand how they shop and why.
As a generation that is undoubtedly more in tune with technology, it's not surprising that many 18-24 year olds find indulging in online shopping on their laptops, mobiles and tablets an easier alternative than heading to the high street. According to Voxburner, around 28% of young people (aged 16-24) buy the majority of their clothes online and via apps, naming ASOS, boohoo.com and New Look as some of their favourites. Charlotte Beasley, first-year medical student at the University of Bristol, finds online shopping much more convenient: "I definitely prefer doing my shopping online, especially since the shops are really far away from my accommodation. It's much easier having purchases come to my door instead."
However, despite the growing popularity of online shopping, it seems that the majority of students still take the traditional approach. In fact a recent UCAS Media survey found that from a poll of more than 18,000 students, 70% still choose the high street. Sarah Blake, who studies modern languages at University College London, thinks being able to try on clothes in particular is a big factor: "Whenever I order stuff online, it doesn't seem to fit or look as nice as it did on the website." Living in Central London also means that, unlike Charlotte, "it isn't too much effort getting [to the shops] and back". University of Cardiff student James Gilbert also prefers shopping in-store to see the items, admitting, "The only time I resort to online shopping is if it's something I can't get in store".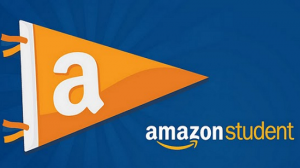 That being said, with more brands offering student discounts through apps such as UNiDAYs which boasts more than 4.3 million users, as well as faster and cheaper delivery options, it's safe to say that online shopping could become more and more tempting to students over the years. Earlier this year, Amazon introduced Amazon Student Prime, which offers free one-day delivery for all students for a 6-month trial period, meaning students can now get their textbooks cheaper and quicker. Similarly, ASOS, whose 10% student discount and regular sales help make it particularly popular, also offers free returns with most purchases, so customers can easily try things on and return them if they're not quite right. "If ever I do shop online, it tends to be from ASOS because of their free returns policy," says Sarah. What's more, with it being much easier to compare prices and find cheaper alternatives online, 43% of 15-21s with smartphones admit to 'show-rooming', i.e. browsing items in-store only to buy them cheaper elsewhere online, according to the 2014 Youth Odyssey Report.
Still, it seems that along with price, convenience is also an important factor for today's students, which both online and in-store shopping can offer, depending on the circumstances. London School of Economics student Louis Sangan, whose last big purchase of a pair of Bose headphones was from Amazon, sums it up nicely: "Online is less hassle and a lot better for price comparison; shops are good for getting things I need quickly. I tend to go 50/50."
Even for a generation glued to their smartphones, the high street isn't quite dead.
Author – Fedora Abu (UCL Student)