3 brands who smash student marketing
There's a lot of focus on millennials in the world of marketing at the moment, and for good reason. They make up the largest demographic in the UK and come with huge spending power, which opens up countless opportunities for brands – they're certainly a consumer force to be reckoned with!
However, not all brands are effectively communicating with this tech-savvy, "always connected" generation. More often than not, brands make assumptions about the student and millennial demographics. Those that lead successful marketing campaigns and reap the returns are taking the time to understand this audience and not just their behaviour.
Here are three brands that have totally grasped the concept:
Hostelworld
As the world's number one hostel booking site this brand is totally leading the way when it comes to marketing to students. Firstly it has nailed its product offering, providing low-cost, sociable accommodation at the hottest travel spots worldwide, resonating with students seamlessly. Secondly, it knows how to create an interactive experience for its consumers and the campaign we discuss below perfectly encapsulates what the brand is all about – fun!
The brand's 'Escape to the World' cross-channel campaign involved launching a student competition, 'My Awesome Escape', offering the opportunity to win one of three all-expenses-paid trips of a lifetime.
Now, instead of simply investing in traditional channels to promote the competition, the brand created an experience that students could participate in, the Hostelworld Union Challenge. SUs across the UK competed to gain the most student entries for a chance to win an awesome prize that included a 30ft inflatable cinema screen with a projection system. With sixteen unions battling it out to the very end, each union created their own content to encourage its students to get involved and had a designated landing page to track progress and make it competitive.
The brand utilised the clout and sway of students and SUs in order to promote the campaign and generate organic engagement with the competition, as well as with the brand on social media.
Key takeaway: Try to create an interactive experience for fans that they can participate in and share their own content to drive organic engagement.
RedBull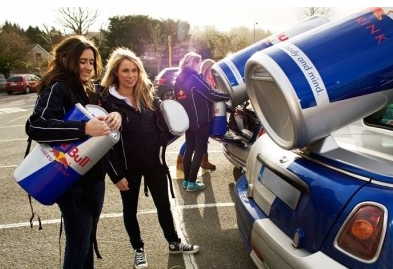 Now, it's probably no real surprise that we have included this super cool and innovative brand in our top three. Not only does it take content marketing to the extreme, but it also has the most robust and dynamic Student Ambassador Programme that we can't help but jealously admire.
We've found that the best way to directly influence students is through on-site, face-to-face promotion – and Redbull has totally nailed this concept. One of the longest running programmes, the brand has created an unrivalled package to help attract students, offering complete training, a fancy car to drive, amazing events to attend and tonnes of free Redbull (we defy you to find any student who doesn't drink Redbull) – what's there not to like?
Over the years, Redbull has created a huge network of brand advocates and we have yet to see any other brand come close to delivering the kind of return they do. Huzzah!
Key takeaway: People trust people more than they trust brands. By using student brand ambassadors brands can deliver a more meaningful, genuine experience without being too salesy/promotional.

Nandos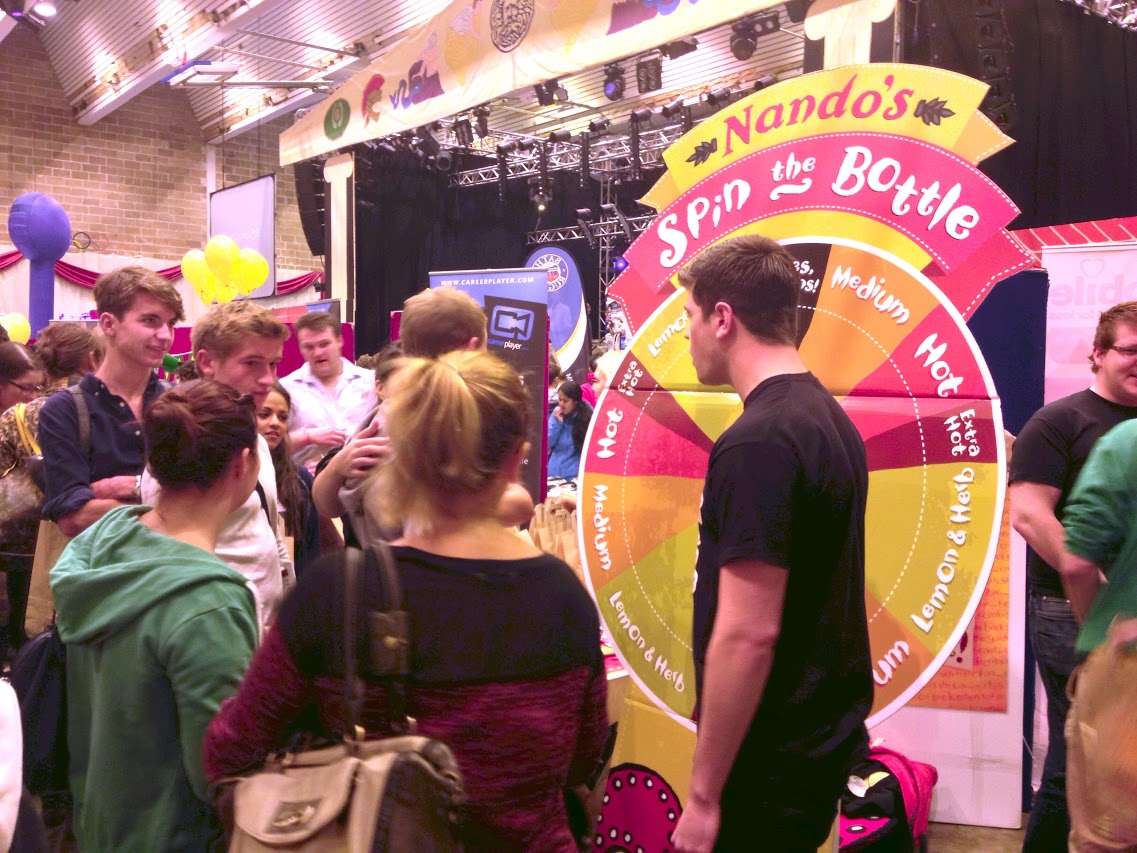 From our experience working with brands and Fresher's Fairs, it's clear that students absolutely love Nando's and not just because of the brand's tasty chicken!
It has become greatly known among student marketers that Nando's knows how to do Freshers. What sticks in mind the most is the brand's approach to gamification and how it uses this to drive student engagement. You're probably all familiar with 'Wheel of Fortune' and Nando's was probably the first to bring this style of game to Fresher's Fairs with their spin to win concept offering prizes and freebies of value to students (namely their own food products but who doesn't like free chicken?).
Gamification helps brands to stick in the minds of students by entertaining, informing and inspiring – often one of the main reasons brands are remembered after Freshers, Campaign reports.
Key takeaway: Increase awareness and brand loyalty by embracing trends – gamification – and being among the first to adopt fresh and innovative marketing tactics.

So, how can your business successfully market to millennials and students? Here are our top five tips to help get you on your way (and if you get really stuck, we're here for a chat!):
Align your brand with a cause – this helps students relate to your brand values

Recognise the evolving styles of students so that you can evolve with them

Go where they are! They're very tech and social savvy, so mobile and digital 

activity is crucial

Build a personal relationship with them – get to know them and never make assumptions

.
If you've been inspired by these case studies and would like to kick-start your Fresher's campaign, please get in touch with the team.