We're proud to have reached the finals of the UK's largest regional business awards – the Gloucestershire Echo and Gloucester Citizen Business Awards 2015.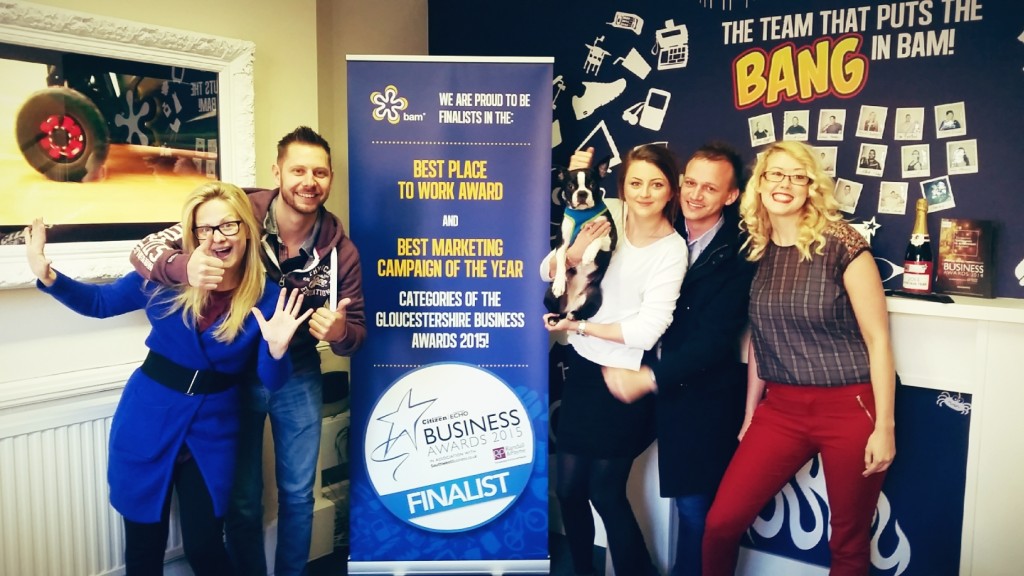 BAM currently holds the title of Best Place to Work and is thrilled to have been named a finalist in this category for the second year running. The team is also a top challenger in the Marketing category, for its exceptional results-generating campaign for Hostelworld.
"This is fantastic recognition for the team," says Tim Bodenham, Managing Director of BAM. "The culture at BAM is pretty special because of our exceptional people – they bring together a depth of skill and experience with real energy and dedication. We're proud to have been acknowledged nationally as one of the UK's best workplaces by the prestigious Great Place to Work® Institute UK 2014, and regionally as Best Place to Work in last year's Gloucestershire Echo and Gloucester Citizen Business Awards.
"To be a finalist again is tremendous, and it's even more exciting that we're up for 'the double', with a hugely successful client project in the frame for an award."
Recognised by industry peers as a finalist in the CIM Excellence Awards earlier this year, BAM's work with Hostelworld, the world's number one hostel booking website, supported the UK part of its global 'Escape to the World' campaign.
Including the launch of a fantastic competition to win three all-expenses-paid trips of a lifetime, BAM's objectives were clear; to drive entries, collecting a minimum of 50,000 student email addresses, while increasing brand awareness and engagement among the student market. This was achieved through delivering a creative and strategic multi-channel approach. The campaign was also selected as a finalist in the British Youth Travel Awards in December 2014.
Now in their 18th year of recognising the best of business in Gloucestershire, more than 130 entries were submitted for the Gloucestershire Echo and Gloucester Citizen Business Awards 2015. The winners will be announced at a black-tie ceremony on 1 October 2015 and the BAM team will be there in full force to enjoy the festivities.
Give us a call on 0845 1300 667 or drop us a line if you'd like to know more about how our 'best in class' team can put you in touch with an audience whose estimated annual spending power is more than £19.7 billion.