BAM were approached by Wilko to support with the relocation of their Store in Burnley, where due to a number of circumstances they were having to minimise the impact of a 3 week period between their old store closing and their new one opening.
For obvious reasons Wilko were keen to make sure that their customers knew that the store was closing and were aware of the new store location and opening date.
BAM worked with the team at Wilko to develop an activity to take place between store closure and store opening; which would be effective, interactive and match their own ethos and values.
We built a fully branded stand incorporating an open the box game which was branded, bold and interactive. A fully branded gazebo was a perfect focal point for sparking interest from those passing by, offering the chance of free delivery and a chance to win prizes to keep them engaged. The interactive open the box game gave passers by the chance to be lucky and pick the key that opened our Wilko branded box containing a variety of values of Gift Cards within it. The concept was simple yet effective and the success was proven with over 500 participants across the campaign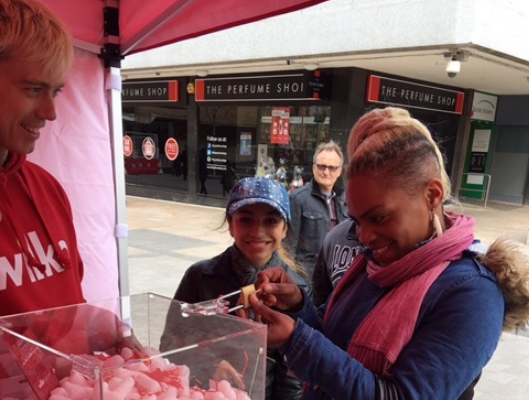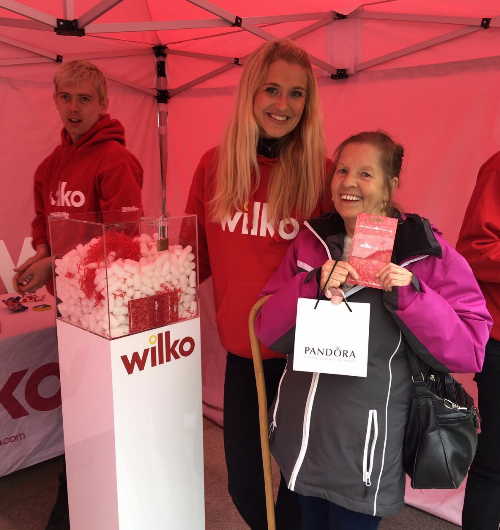 Our structured plan consisted of three phases:
Phase 1 – Instore – prior to the old store closing 
Our team was set up within the entrance of the old store and our staff spoke with customers advising of the closure and offering a free delivery
Phase 2 – Town Centre based Experiential between closure and reopening
BAM booked street pitches in Burnley Town centre sited the branded gazebo with the open the box game engaging the public providing opportunity to share information of the new store
Phase 3 – Town Centre Flyering on the weekend prior to the new store opening
BAM secured flyering permits for Burnley Town centre, allowing us to promote the new store in the key area to the public. With high engagement and interaction the campaign was a success and achieved Wilko's objectives
TESTIMONIAL
"A thoroughly professional job by the team at BAM. They really engaged with the team in store, our customers and the generic public.
They have provided an essential link to ensure Wilko Burnley stayed in the minds of the local community whilst being closed and I am sure we will reap the benefit when we re-open. Thank you BAM on behalf of the team and I."