Unii is one of the UK's fastest growing social networks, specifically targeted to students. Unii approached BAM in the summer of 2013 with a view of launching its platform into the UK student market. Our objectives were two-fold:
Maximise awareness of the Unii brand amongst UK university students
Drive as many students sign ups (gaining .ac.uk email addresses) to the Unii platform

We were fully aware that Unii were working from a standing start. With no brand awareness at all, we knew we needed to create a significant multi-channel campaign that truly made waves in the student sphere. We focused on 4 initial phases of activity:
Phase 1 – Pre Arrival Direct mailings were sent to 200,000 new students. We also placed web banners on 20 priority Students' Union official website to coincide with A-Level results day to drive traffic and sign ups.
Phase 2 – Arrival Information, branded playing cards and condoms were placed into 100,000 student halls of residence across the UK, targeting students as soon as they arrived on campus.
Phase 3 – Face to Face We then secured headline sponsorship of the UK's biggest student shopping events, providing brand awareness and direct access to over 150,000 students. In total we attended 23 events across the UK. In addition to the branding and on-site presence, we also negotiated a bespoke data agreement which provided a host of direct sign ups. We also targeted students face-to-face through a selection of targeted university Freshers' Fairs.
Phase 4 – Follow up E-mails To follow up this face-to-face presence, we sent targeted emails to over 500,000 students at selected UK institutions. We have also continued to support Unii throughout the year, following up the initial campaign with over 1,000,000 student email sends.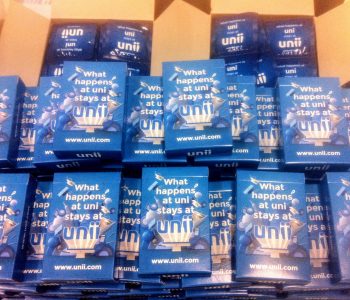 Working closely with over 50 universities, Students' Unions and media owners, our campaign integrated more than 300 on and offline channels, strategically planned throughout a 6 month window. A summary of the results include:
Campaign reach of over 1,000,000 UK university students
Achieved over 150,000 sign ups to the Unii platform within the first 6 months
Successfully gained sufficient traction to launch Unii into the UK student market
TESTIMONIAL
"What impressed us most about BAM was the sheer number and diversity of channels that they had access to quickly and efficiently. BAM's account management was also fantastic throughout the campaign." Marco Nardone CEO Unii