Short deadlines are meat and drink to the news media, so BAM was unphased when The Guardian asked for help meeting a 3-week turn-around for its key student supplement.
The challenge was two-fold: source student-focused brands to advertise in the Freshers Guide; and then distribute the supplement directly into the hands of students on campus and at student shopping events.
The Freshers guide was first published within the national Guardian newspaper on the 24th September 2015, carrying several advertisers sourced by BAM the supplement was then taken 'on tour'.
TESTIMONIAL
"For the first time, The Guardian distributed copies of The Guardian 'Fresher' supplement to students on campuses and student shopping events across the UK. We chose BAM to help us do this and they took care of everything from staffing to the logistics. BAM took away all the hard work, which meant we just got to see the brilliant end results. We'll be doing it again for 2016 with BAM, just bigger and better!"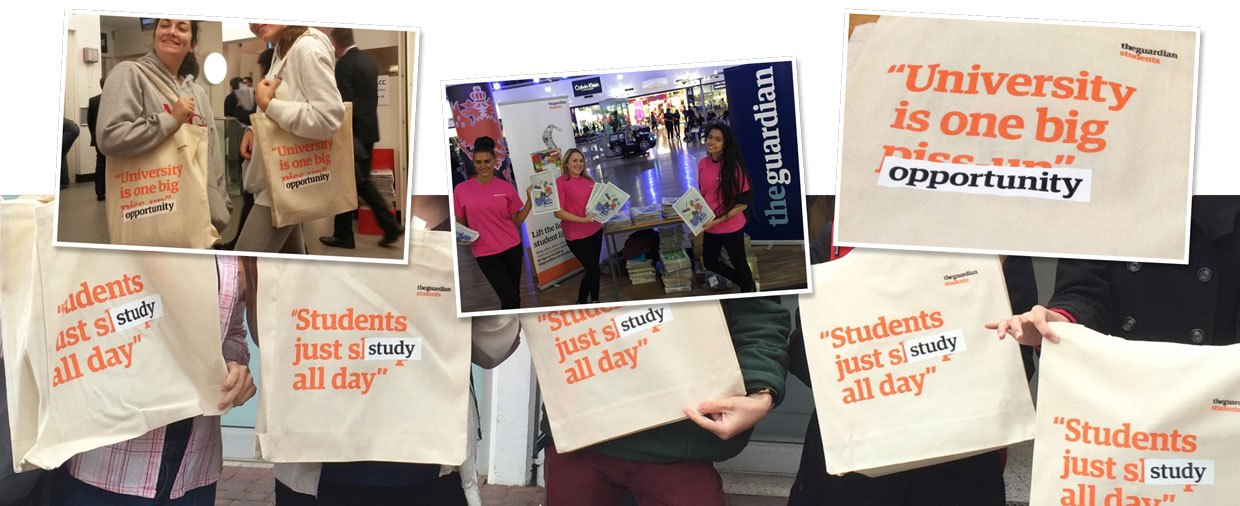 BAM's Support Included
• A strategic plan to execute the distribution of 20,000 student supplements and 2,000 branded bags through an effective cross channel approach
• Using BAM's in depth knowledge of the market, we sought the most effective venues and events across the UK, creating a tour that covered ten top universities and shopping centres
• We handled on-site distribution on university campuses including Newcastle, Liverpool and London, and via renowned Student Shopping events at St David's, Cardiff and Gunwharf Quays, Portsmouth
• BAM successfully managed all aspects of the campaign from planning to logistics and staffing, ensuring a hassle free campaign
• BAM is now working with The Guardian to increase distribution for 2016