Two Awesome Brands, Two Awesome Campaigns
Timex & Branston
At BAM we offer brands the option of full-service youth marketing campaigns from concept creation through to campaign evaluation, and everything in-between.
However some brands already have their concept and creation in hand, they simply want our expertise and connections in the market to secure the very best media to execute their campaign. Timex and Branston are two prime examples of how utilising BAM's service for just one element of a campaign can help produce amazing results.
Here's how two very different brands with two very different histories, both made one hell of an impact at Freshers' 2018.
The American classic Timex came to BAM seeking our knowledge and expertise to source and secure them the most suitable and effective locations for their Freshers Campaign of 2018.
Tracing its lineage back to 1854 this US staple has segmented its formula for success in the UK over the decades, offering unbeatable value combined with reliability, two offerings that made the brand increasingly appealing to the student market.
Attending multiple Freshers' Fairs across the UK from Portsmouth to Newcastle, BAM were responsible for the booking and coordination of all stall spaces across fair locations.
In addition to location coordination, BAM Student Marketing provided Timex with supporting media packages for both pre-promotion of events and live promotional media during activity. BAM also provided Timex with the use of our data collection app, a vital tool in obtaining student information and invaluable for continuing the conversations post-event.
For their first student Freshers' airstream tour, Timex required a relatively large outdoor space at each location, which BAM was able to secure for every city targeted. Our data collection app eliminated the need for wifi outside by working to full capacity offline, providing students with a quick and easy form to complete.
In return for their data, the majority of students won a Timex branded prize, which ranged from pens and mugs to USB sticks and T-shirts. As an added bonus students were even able to purchase watches on the day, with one very lucky student winning a free watch at each event!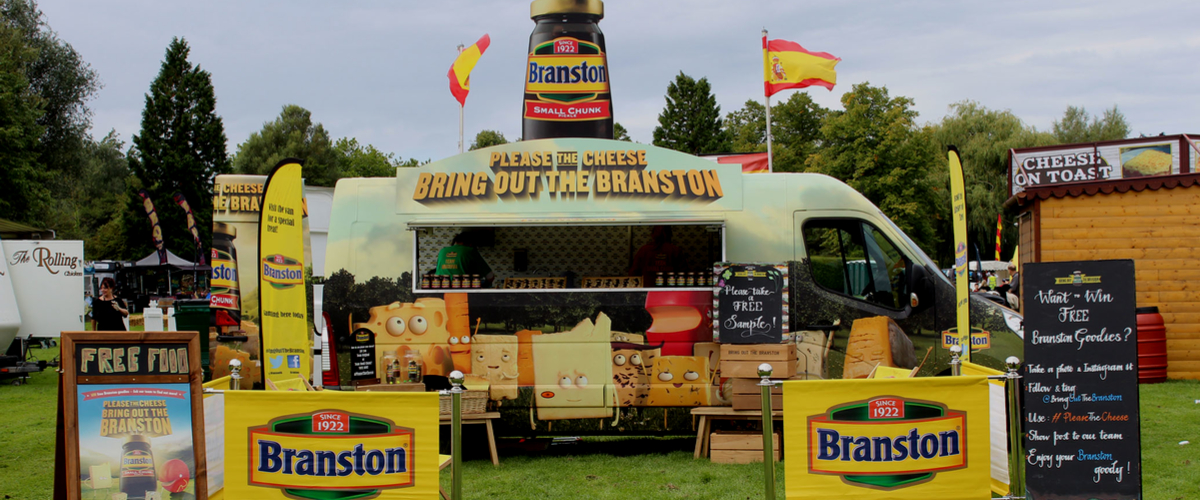 Returning to home soil, the UK's favourite pickle brand conducted sampling activity Freshers this year and boy did they make an impact!
Brought to BAM through Woof Agency London, the UK's best-loved sweet pickle and a firm family favourite, Branston Pickle is already a well established British brand, loved by a multitude of generations. However before their Freshers baptism with BAM, they had never targeted the student specific audience before.  This was their first real taste of the benefits that can be reaped from connecting with this lucrative student audience.
We know location is key and when it came to Sheffield University Freshers' Fair, we worked with the Students' Union to ensure the visual impact would be maximised. With over 1000 full-size samples of sauces including ketchup, salad cream and their infamous Pickle to be tasted, Branston ensured there was something to suit everyone's taste and that no one left empty handed!
It is truly exciting to work with such iconic brands, and we look forward to building our relationship with these brands as they continue to target the student market.