Freshers' unplugged: New research
To create an engaging youth marketing campaign, brands must first get to grips with what students are all about. This was a hot topic at the YMS16 conference this year, with David Cook, Account Manager at BAM, leading a discussion with Greggs, Doddle and The Guardian on why the student market has become such an integral part of so many brands' marketing plans. The team also shared some best practice guidance on how to engage with this unique and diverse market.
So, what's the student market all about we hear you ask?
Well, here are some stats taken from some recent research we carried out:
Of the 5.8m 18-24 year olds in the UK, 1.9m are in full time education*
Out of 1.8m, 1.3m undergraduates are under the age of 24**
The student market can be very receptive to face-to-face promotion, even something as simple as gamifying a campaign rather than just handing out freebies can actually double campaign results
95% of the brands we surveyed used more than one method or channel when targeting students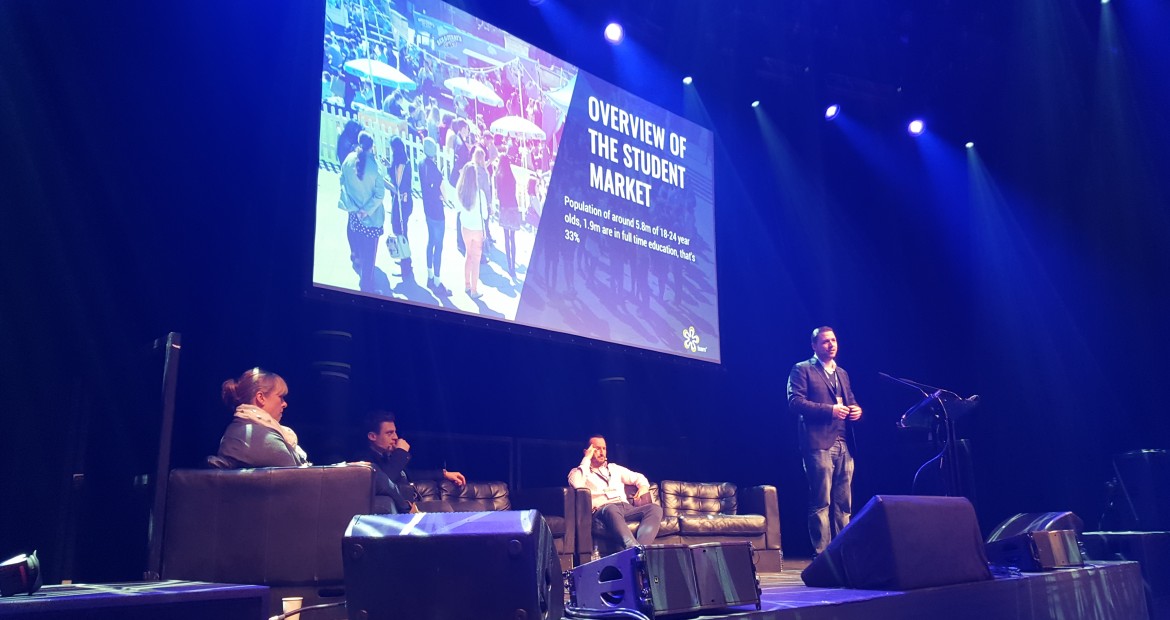 Our David Cook live on the main stage presenting at the 'Overview of the Student market'
What does this actually mean for brands wanting to engage with the youth market?
Essentially, a huge opportunity! Students account for such a significant proportion of 16-24 year olds, that marketing to this demographic shouldn't be ignored. In addition, with the youth market being so diverse in its behaviour, students provide a certain level of continuity that can't be found elsewhere.
Students like to be engaged in a number of ways, however from our research we have found that the preferred method of receiving information about events and trends is via word of mouth. However, David delved deeper into what he believed word of mouth actually meant:
"We don't think that it refers to a direct conversation with a friend or housemate. It refers to a wider conversation that is taking place within their community."
Which leads us to the most challenging question that we get asked when a brand wants to engage with the student market – "how do we get this market to start talking about us?"
The challenge is increased by the fact that there are so many ways to engage with this generation; a recent survey (link?) showed that brands still value face-to-face promotion, with 64% using this approach in the past 12 months. This tactic can often be perceived as being a bit too full on, however, we've found that with the right approach and offering, the student market can be very receptive to receiving information this way. It offers a real human element, a connection between brand and consumer that will never be fully achieved through other channels.
Of course, as David says, it's not always quite that simple. We recently asked a selection of organisations to sum up their experience of the student market and there were the usual positive terms such as 'fun', 'dynamic', 'lucrative', 'brand loyal', but two of the most common terms were actually 'difficult' and 'challenging'. There was also a general feeling that the marketplace is overcrowded and brands can get lost among the noise. This is something that we totally agree with, however we can also assure brands that if your campaign is engaging, relates to the market and connects with the individual, you won't be forgotten, you'll be loved and talked about.
So, if you would like to have a chat about how we can help you connect with the student market, get in touch!
*Source ONS ** Source HESA