7 tips to help you connect with students
Wow, well it's safe to say that 2016 has just flown by. Us marketers are looking to 2017 and what this may hold for our upcoming campaigns. Here are our top seven tips to ensure you hit the student market hard this year:
To Assume makes and Ass of U and Me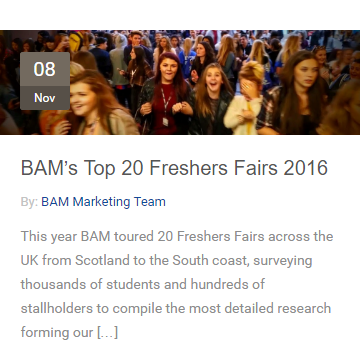 Never make assumptions about students. Our recent Freshers' survey showed that many students had not heard of some major brands that were conducting activity before seeing them during September. It was a big surprise, but a reminder that students have a lot of choice about who to give their loyalty to. There are numerous contradictions in the wonderful world of students. For example we speak to many students who will say it's important to be offered a deal when it comes to some purchases and yet at the next turn are happy to pay premium prices for a brand purchase that they see as important to them. At both ends of the pricing scale brand image is everything.
Blending the online and offline
Digital is a key part of students' lives, so having a brand presence both online and offline is important, but make sure you have something interesting to say! Just being in front of a student is not enough. We have also seen some more traditional marketing routes really hit the mark recently with many students being positive about a return to being handed something physical to engage with. Students exist online and offline so the key recipe for a successful campaign is making both of these channels work hand in hand and with a coherent brand message.
Be Relevant
Students are now bombarded with advertising, much of the time to the point where it does not even register with them. The need to grab attention is as important as it has ever been. The good news is that students actually welcome marketing in every form as long as it offers something valuable to them. Discounts are always a winner; or a cause that helps them feel better about the world, and even direct mail is welcomed by students who have previously told us that it has an impact on their brand decisions.
Planning
Leave enough planning time for your campaign. The student space is a great one but can be tricky to navigate.

Gamify

Whatever your campaign message is or however you are communicating it, students love to play games and love to compete against each other and other student groups, as well as universities. Harnessing the playfulness of students has a major impact on student campaigns.
People Matter
Often the promotional staff delivering a campaign can be forgotten about. We see clients investing time and money into great concepts only to recruit badly. Having experienced staff to run the campaign effectively is a must. The team you use need to be on brand, feel part of the team and be fully trained and briefed otherwise a great idea will possibly not hit the mark.
Secret Gems
We love new ways of reaching students so a little gem that is new on the scene allows brands to advertise for free via on-campus printers. Students download an app which allows them free printing. This has allowed us to place clients as a banner advert at the foot of the document each student prints. Even better than that the student is served an in-app advert while they wait for the document to print. We have seen CTR of 16% on this media since it launched in September.